This 11 inch MacBook Air was sent to us for a LCD replacment. It appears to have suffered a direct hit to the center of the screen from the front. As you can see there is a distinct impact mark on the screen, it almost looks like it was struck by a baseball or another round object. The damage was severe enough to crack the apple logo on the back of the display. Because of this, we expected to find damage to the backlight panel behind the LCD as well.
Sure enough, after our LCD replacement service, there was a small white mark in the center of the display, right in the middle of where the screen was cracked. These faint residual blemishes to the backlight are common after strong impacts to MacBook Air screens. The mark only appears on a white background, and is about the same size as the cursor you see next to it. When she screen is displaying text or images, the mark is much less noticeable. We consider this a purely cosmetic defect.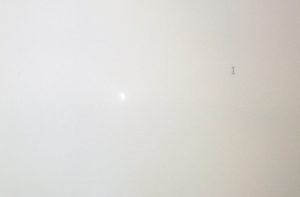 Sometimes, customers choose to have the entire display panel replaced instead of only the LCD to avoid this type of residual mark, at a cost of $400 and up. More often, they decide the small defect isn't worth the large difference in price of the two repairs. We always inform our mail in clients if this defect has occurred on their screen, and send pictures so they can make an informed decision. The cost to fix a broken LCD on this model is only $200. Compared to the cost of a new computer, these little "battle scars" such as dents, dings and marks don't seem so serious.
We specialize in MacBook Air screen repair. We have an industry leading 24 hour turnaround, and competitive pricing. If you have a broken screen on your Mac and are unsure what service you need, please fill out the form below and we will get back to you within a few hours.