MacBook Air Screen Repair Services
2020 M1 MacBook Air Screen Replacement Options
Model A2337
60 Day Warranty
Mail-in Service Available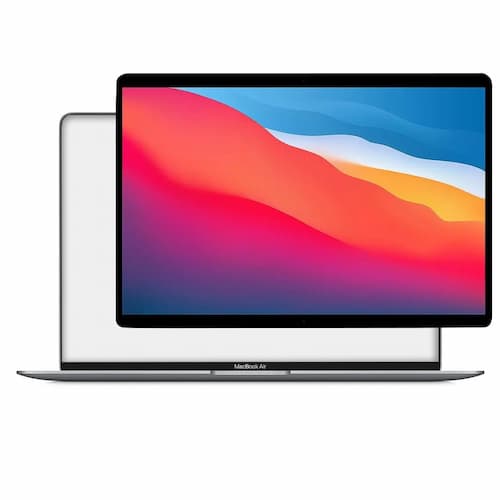 $299 LCD Panel Replacement
I replace just the cracked LCD.
As long as the edges around the screen aren't dented and there are no bends to the display, an LCD panel replacement is all that is needed for a cracked screen repair.
I use the same LCD panel Apple uses in their display assemblies: LP133WQ4_SJA1
24 Hour Turnaround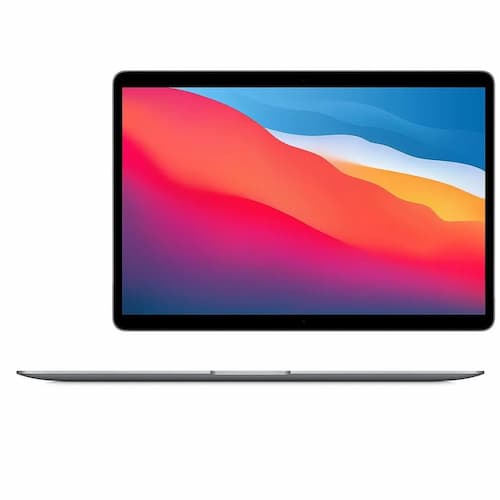 $429 Display Assembly Replacement
I replace the entire display assembly.
The entire display assembly is replaced, this is necessary if there are dents around the edges of the screen, or if the display is bent.
I use a display assembly that is sourced through Apple's self-service program.
48 Hour Turnaround
My mail-in service is Simple
I understand how frustrating having a broken laptop can be, so I have created my nationwide repair service with your ease in mind. You will see it is an easy process indeed.
Get Quote
This step is optional, if you have already found the pricing for the repair you want on my website, you can skip this step. Otherwise, fill out my quick quote form and I'll get back to you quickly! Note that my prices include the shipping to get the computer back to you after repair.
Fill Out Order Form
My order forms are quick and easy. Just put in your contact info, select the service you need, and select if you want the laptop shipping box with the Ground label sent to you. However you decide to ship it in, I will cover the cost of shipping the computer back to you.
Ship In Your Mac
If you chose to ship in your Mac yourself, simply pack it up and ship it out following the instructions linked below. If you ordered the shipping box, I'll get that shipped out right away. And if you change your mind and want me to send you a box, just let me know!
And just like that, You're Done!
Now you can leave the rest to me.
I'll take care of your Mac and get it back up and running as quickly as possible. I'll also keep you updated throughout the entire process with email updates. When the repair is complete, I will send you an invoice via email. I use Square for my invoices, so you can pay with any major credit card.
Component Level Repairs
MacBook Airs are great portable machines, but they are a little fragile when it comes to dropping or bending. I get numerous reports that the MacBook Air screens seem to break on their own during regular use, especially the newer M1 2020 MacBook Airs.
However your MacBook Air was damaged, if it has a cracked or broken LCD, let me help! As one of the few repair shops that provide component-level repair for MacBook Air displays, I have the services you need to get your Air fixed quickly and affordably. My screen repair offerings include MacBook Air LCD replacements for a fraction of the cost of replacing the entire display. By replacing just the broken component (the LCD panel), I can save you $100's. If you want to see the process for these repairs, check out my MacBook Air screen repair guide.
I offer low-cost screen repair for almost every 13″ MacBook Air. My pricing is a flat fee based on the model computer you have. If you would like to learn more about the cost of replacing a MacBook Air screen, I have an entire page dedicated to the cost of MacBook Air screen repair.
MacBook Airs That Require LCD Replacement
My service includes replacing your cracked or broken LCD with a brand-new panel. You can click on the images below to see some examples of MacBook Airs that required LCD panel replacements. If your Mac looks anything like the ones below, you likely need a new LCD! If you are unsure what you need, feel free to chat with us at the bottom of this page, or contact us here. You can even submit a photo of the damage on your computer and we will get back to you with what you need.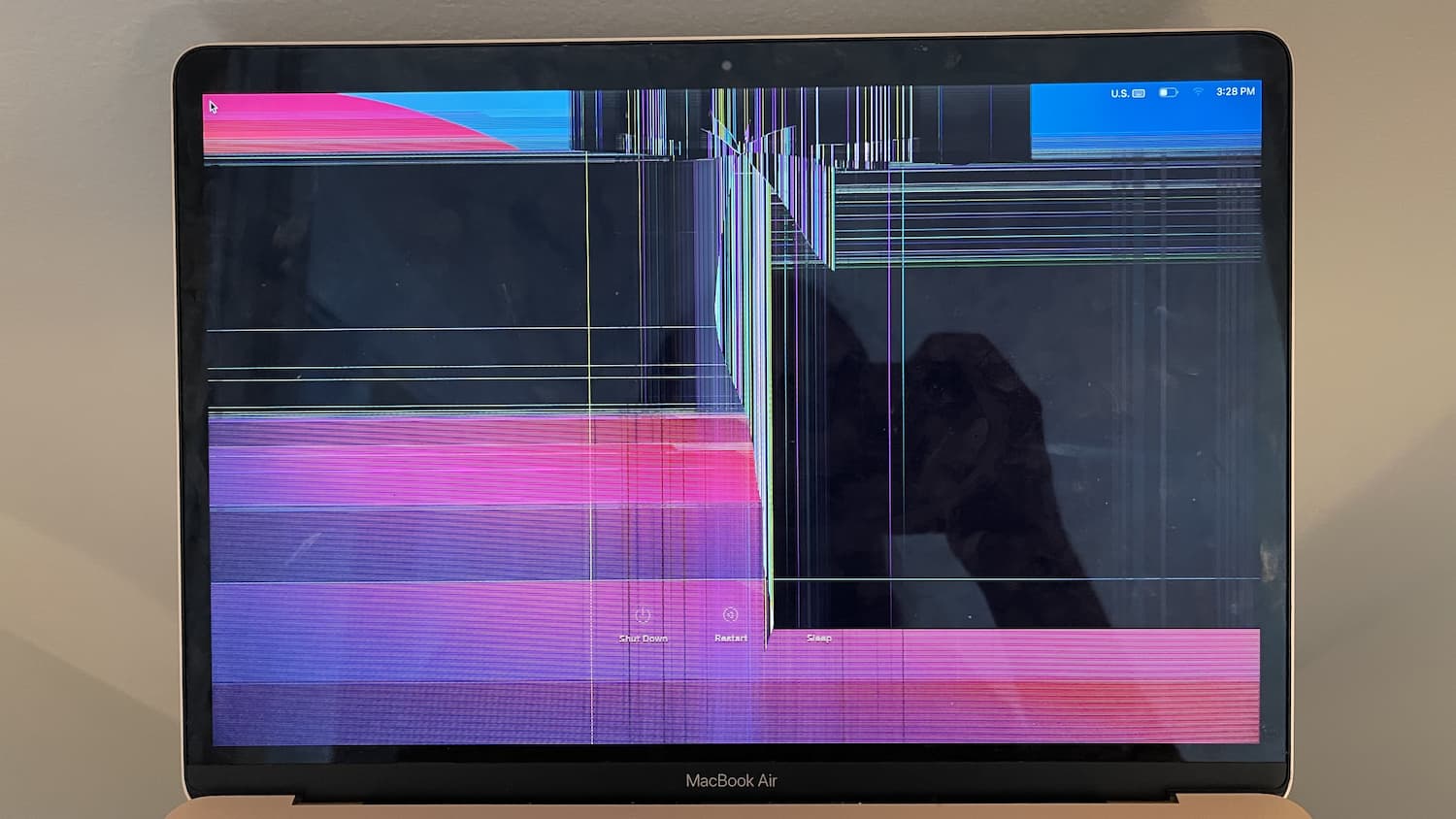 Things To Note
While most screen repairs do not require any difference in service, there are a couple of scenarios that come up once in a while with LCD-only replacements on MacBook Airs.
White Spots on Backlight Sheet
When something hits the MacBook Air screen from the back or very hard, sometimes the backlight sheets get damaged as well as the LCD. The backlight LED's shine up from the bottom of the laptop and reflect off a white sheet of paper-like substance. There are additional sheets after this white sheet that diffuse the backlight and spread it evenly through the LCD panel.
Normally, we can just replace the LCD and any backlight issues are purely cosmetic. As you can see in the picture below, a damaged backlight usually causes white spots on the LCD. Normally this white spot is only where the impact point is.
So if the computer got hit from the back or front hard enough to damage the backlight, we can either replace the entire screen assembly for a possible additional fee or just replace the LCD and ignore the cosmetic white spot. If you want to read more about this issue, here is a White Spot On Backlight post on our blog.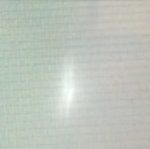 Bent Corners or Dents on Housing
Most MacBook Air models do not require us to replace the whole assembly. However, if you would like the entire display housing replaced during service to get rid of dents, damaged corners, etc… we can replace the entire assembly during service (usually for an extra fee).
If you wish to have us replace the entire display, please let us know so we can look up the exact cost for repair and send you a quote for approval before we complete the work.
From the blog
Latest MacBook Air Screen Repairs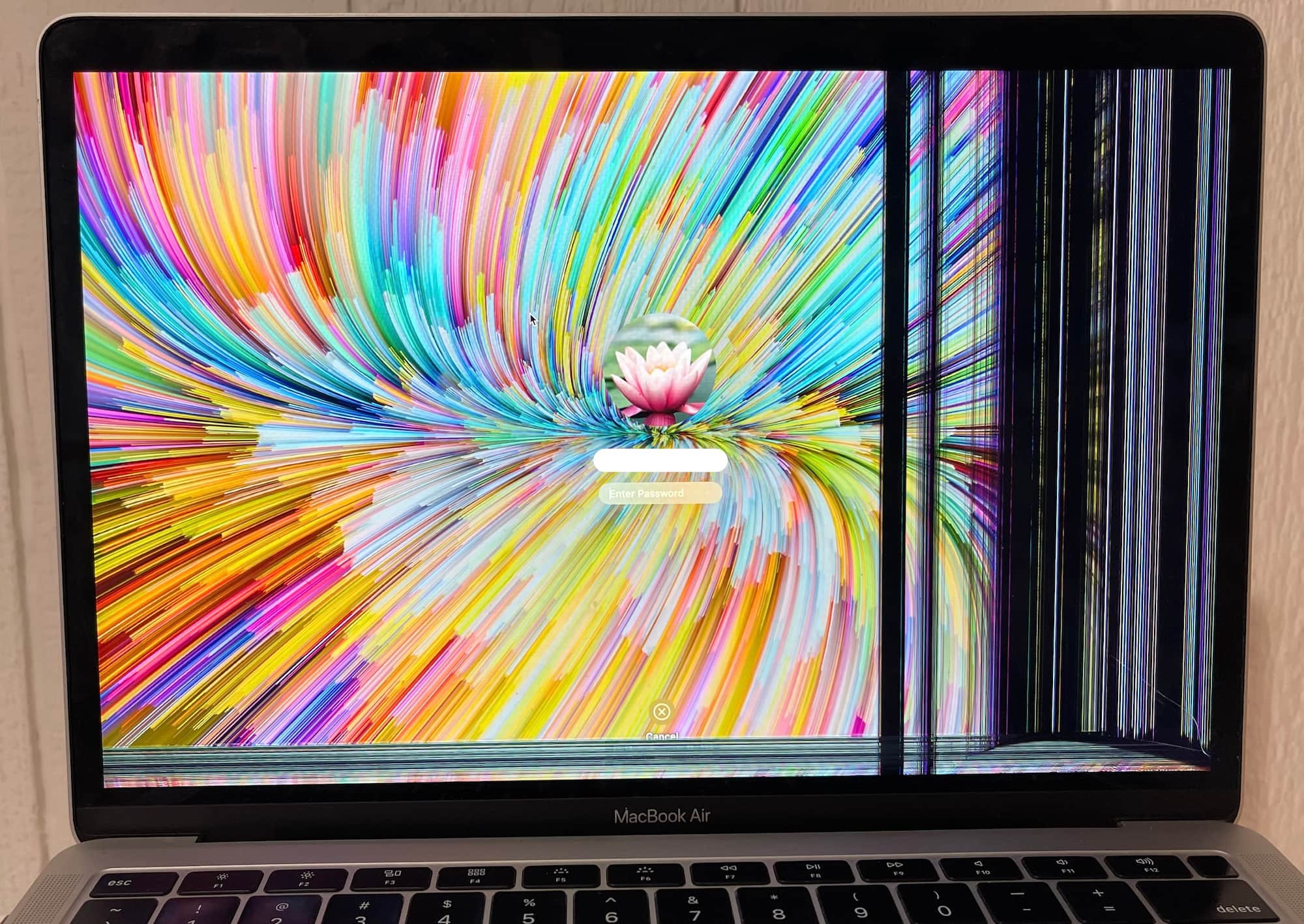 This MacBook Air is suffering from a crack on the bottom right of the display. This cracked LCD panel is causing vertical bars to show up on the screen. As you can see in the picture the edges around the screen do not have any dents, and the display itself is not warped at all.…