This MacBook Air experienced a small impact on the bottom left of the screen. Although this blue and green hue is quite gorgeous, it would have a better place as a desktop background rather than your primary display. We replaced this client's LCD screen to restore full functionality.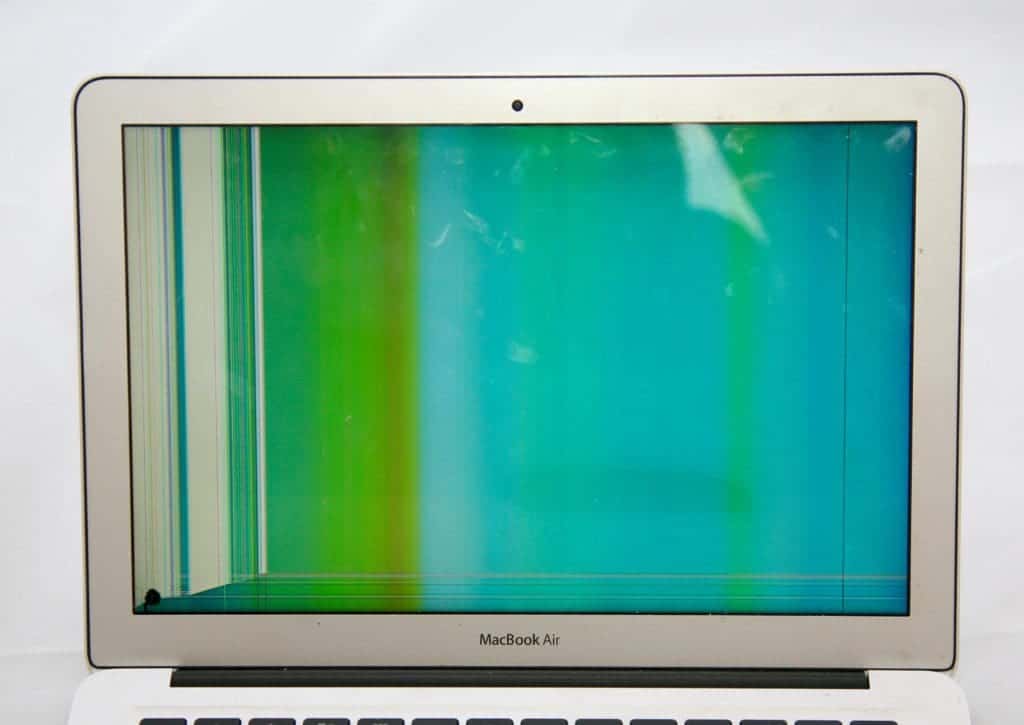 MacBook Air Display with no recognizable content
Oftentimes when a display is damaged you will still be able to see and use part of the screen. But in some cases, the screen is damaged in a way where it becomes completely unusable. In cases like the one above with the pretty green hue, the issue is just the LCD panel and a replacement will get the computer running properly again. If you need to use your computer while the display is not working, there is a method to using a secondary display that works quite well.
Using a secondary Display
The first step is to gather a couple of items you will need to connect your MacBook Air to the secondary display.
You will need a secondary display with VGA, DVI, or HDMI inputs. If you have a even slightly modern TV, it will likely have HDMI inputs.
An adapter to go from your mini display port to the port on your monitor. If you are going to use your TV with an HDMI port, here is an example of an adapter that would work with a MacBook Air.
A cable to connect to your adapter then to your monitor. If you are using your TV, you could disconnect something that is plugged in currently using HDMI (like a blu-ray player), and connect your MacBook Air.
Once it is connected, you will see a secondary screen on your monitor where you can work. If you want to go a step further and have the secondary display be your primary display, just connect a keyboard and mouse to your computer, be sure it is connected to power, then close the lid of the machine. This will force it to use the external monitor as your main monitor.
Goodbye Blue and Green Hue
While using a secondary monitor is a great workaround for an emergency, chances are you want your portable MacBook Air to be up and running again without having to connect to an external monitor. We can help! We offer the MacBook Air LCD replacement you would need to get your computer back up and running properly.
If you have a 13″ MacBook Air with a broken screen that looks like this one, our LCD replacement service will fix your issue:
[products ids = "1078"]
Not sure what you need or looking for a quote?
If you would like to have your computer repaired and are not sure the costs involved, please fill out this form. We will reply to you within a few hours.