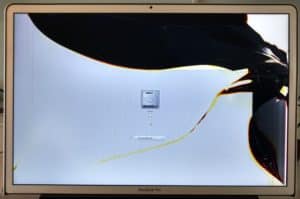 This 17 inch MacBook Pro screen with Matte LCD (note the silver bezel) is pretty badly cracked. The colors are appropriately spooky for Halloween. Red, black, orange, and yellow marks across the image on the screen. This type of damage is easily fixed by replacing the LCD panel with a new one.
No need to give up on that expansive display. If your 17 inch MacBook Pro is having a similar problem, be sure to contact us first to make sure we have the matte displays in stock, they're special order.
As computers get older it can become more difficult to find new parts. In this case Apple stopped making the 17″ MacBook Pro in 2011 (Update, they have released a 16″ MacBook Pro which is as close as we expect to see to the 17″ they used to make). If we are not able to source a new part for your computer, we may be able to give you Used options for your display replacement. Just contact us with your 17″ MacBook Pro serial number and we will let you know what we can offer and if we can offer used what price we have them for.
Do you need your MacBook Pro display repaired? We offer both LCD and Glass replacements for MacBook Pros. Take a look at our pricing on our MacBook Pro Display Repair page.