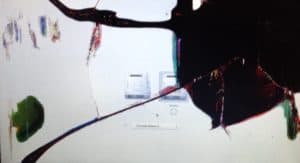 "How do you fix a broken screen?"
Very carefully! We specialize in component-level repair on MacBook Air computers like the one pictured above. The LCD panel on this laptop is cracked, causing a pattern of colors and blots across the screen. We separate this delicate broken piece from the lid and backlight panel behind it, and replace it with a brand new LCD screen. Taking the extra time to do the repair this way reduces waste and keeps our prices lower. We think it's the right way to do things.
We specialize in MacBook Air screen repair. We have an industry leading 24 hour turnaround, and competitive pricing. If you have a broken screen on your Mac and are unsure what service you need, please fill out the form below and we will get back to you within a few hours.