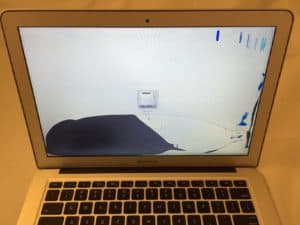 This Apple MacBook Air 13 inch laptop has all the classic signs of a broken LCD. There are cracks visible across the lower portion of the display, and portions of the screen are covered in black spots and blobs. There are also splotches or drips of blue color in the upper right corner. The only common symptoms that are missing are multicolored vertical and horizontal lines.
If your laptop looks anything like the image above, you can bet that your Mac's LCD panel is damaged. Don't worry, this is a fixable problem! We can remove the silver bezel that surrounds the LCD panel and replace just the broken part. A new LCD panel can be installed in under 24 hours and the price for this repair was $329 for this 2015 13″ MacBook Air.
We specialize in MacBook Air screen repair. We have an industry leading 24 hour turnaround for the LCD panel replacement, and competitive pricing. If you have a broken screen on your Mac and are unsure what service you need, please fill out the form below and we will get back to you within a few hours.