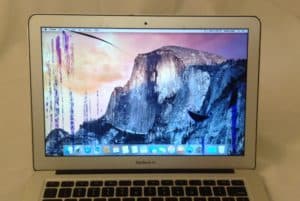 Here's a great example of a 13 inch MacBook Air (Model A1369) with LCD damage. The screen looks like it's been stained or drawn on with blue and purple marker, but actually the LCD panel is just broken. You can see part of where it's cracked diagonally across the top left side of the picture above. This type of damage can happen when the laptop is dropped, stepped on, picked up roughly, or closed on a foreign object–like a pair of headphones.
Fortunately, the repair is straightforward–a new LCD panel and one day later all the spots and marks are gone! No need to replace any other parts on this laptop. Just a new LCD panel was all that was needed to get this laptop back up to 100%. Some shops will replace the entire display assembly in cases like this, but it is not necessary if you can replace just the LCD panel.
We specialize in MacBook Air screen repair. We have an industry leading 24 hour turnaround, and competitive pricing. If you have a broken screen on your Mac and are unsure what service you need, please fill out the form below and we will get back to you within a few hours.