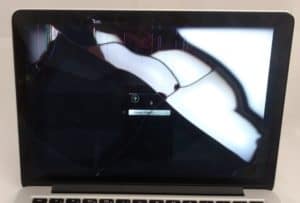 The screen on this MacBook Retina 13 inch was cracked accidentally by the owner. The Macbook's screen now has cracks running across it diagonally, white and black sections of the screen, and multicolored vertical lines in the corner. All classic signs of a damaged LCD. The weird pattern almost looks like a piece of abstract art or a closeup of a butterfly wing.
It might look like the glass is cracked too, but the screen is smooth to the touch, only the LCD underneath is broken. Not that it makes a big difference, because on this model (A1502) we replace both together anyway as Apple has created the LCD panels fused together with the glass.
These repairs we can usually complete within about 4 hours of drop-off. Note that some models are difficult for us to keep in stock, so feel free to contact us to check on availability before making the trip over to our shop for the replacement. If you place your order online for shipping your computer in, we will set one aside for you!
Do you need your MacBook Pro display repaired? We offer both LCD and Glass replacements for MacBook Pros. Take a look at our pricing on our MacBook Pro Display Repair page.