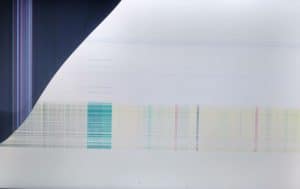 Many of our customers love the big, easy to read display on the A1297 MacBook Pro 17 inch. Sadly, Apple no longer makes the MacBook in this size. All the more reason to repair the laptop rather than replace it! The A1297 comes in two styles, a matte LCD screen, or a glossy LCD. This one is a matte. When this one was new, it had an easy-on-the-eyes, crisp, anti-glare matte panel. Now it's covered in crazy lines and a black section in the corner of the screen. This is a symptom of a broken LCD.
Taking the screen apart is a little tricky, the tiny screws are hidden behind a flexible adhesive panel, as you can see below: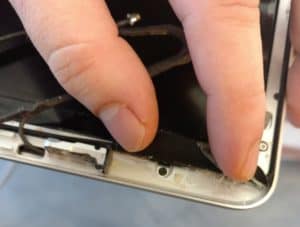 We were able to get this MacBook Pro's screen looking like new for only $250, parts and labor. It's already on its way back home to the owner.
Do you need your MacBook Pro display repaired? We offer both LCD and Glass replacements for MacBook Pros. Take a look at our pricing on our MacBook Pro Display Repair page.