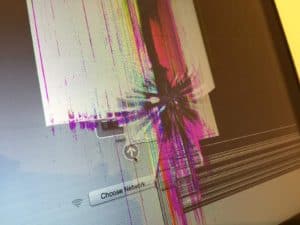 We're not sure if this MacBook Pro A1278 13 inch screen 2012 model had something thrown at it, was dropped, or if someone just closed the lid on some earbuds, but there's a clear impact mark where something happened to the middle of the laptop screen.
The damage has made a sort of starburst pattern with purple, pink, blue, yellow and green lines coming out of the black spot in the center. Pretty, but not so useful for browsing and computing! The owner was able to work on the left hand side of the display for a few days, but decided it was worth the investment to get 100% of the screen working again!
Despite the big crack in the LCD, the clear glass panel is actually intact, so we only charged for the LCD panel replacement to get the MacBook Pro computer screen fixed. This component level repair sets us apart from other shops that offer just the entire display assembly replacement on this unibody MacBook Pro model.
Do you need your MacBook Pro display repaired? We offer both LCD and Glass replacements for MacBook Pros. Take a look at our pricing on our MacBook Pro Display Repair page.