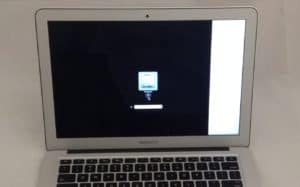 Here's an unusual example of a broken or cracked LCD panel on a MacBook. This little 13 inch MacBook Air has a black screen with a white rectangular area on the right side. It's almost like a white band or white bar across the screen.
Usually we see broken LCDs with colorful lines or cracks on the screen, sometimes even rainbow splotches and black spots. Nevertheless, the repair is the same–a new LCD panel installation. Not many shops can do this repair without damaging the backlight panel behind the LCD, but we have plenty of practice!
The issue pictured is usually caused by a hairline crack along either the side of the LCD panel that is behind the silver portion that surrounds the display, or a problem with the circuitry of the LCD panel that causes the video feed to not reach that portion of the LCD. Regardless of what is keeping your MacBook Air LCD from working, we can fix it by replacing the LCD panel.
We specialize in MacBook Air screen repair. We have an industry leading 24 hour turnaround, and competitive pricing. If you have a broken screen on your Mac, check out our Mac screen repair pricing and contact us if you have any questions.